Pictured: Fantastic Dreamlight Phantom Show Interviewees for Pictures (same below)
From April 8, Shanghai Disneyland's fantasy fairy tale castle will stage a new "Dreamlight Phantom Show", which will combine projection, fireworks, flames, fountains, lasers, lights and other special effects to create a more exciting and exciting immersive experience.
More than 70 expert consultants from eight countries have joined forces
Five years ago, Shanghai Disney Resort touched tens of millions of visitors with its iconic attractions and performances, "Lighting up the Night of Dreams and Phantom Show." The resort's grand opening version of the Night vision show is about to say goodbye to visitors, and they will be greeted by the "Dreamlight Phantom Show." From April 8, the "Fantasy Vision Show" will be staged in front of the Fantasy Fairy Tales Castle at Shanghai Disneyland.
"Dreamlight Phantom Show" with the theme of light, let visitors indulge in the park's moving light and shadow - this beam of light engraved in everyone's dreams and aspirations, while giving the whole park vitality. The new Night Lights Phantom Show will continue to be staged at Shanghai Disneyland's iconic Fantasy FairyTale Castle, while the new Fantasy Garden will be fully utilized to immerse visitors in a different entertainment experience. As stunning visual and auditory effects surround every corner of the Fantasy Garden, visitors will feel at the center of the show, blending it with the show.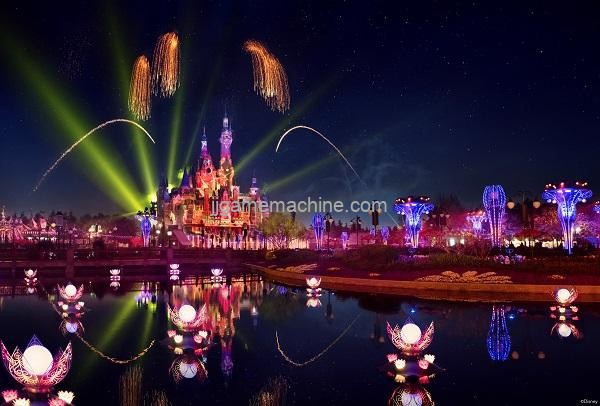 To create a full range of immersive effects, Shanghai Disneyland has installed 91 new lighting installations in 15 carefully selected locations, including 8 giant garden lighthouses, 11 enhanced wood-shaped lighthouses, and 12 water lilies. At the same time, 22,000 more LED lights have been added to the existing 5,000 LED lights in The Imagination Garden, bringing the total number of LED lights used throughout the show to 27,000. Not only that, but the lights of "Little Flying Elephants" and "Fantasy Carousel" and float cruise routes will be added and synchronized for the first time. In addition, 38 straight fountains, seven swinging fountains, and one water curtain will feature grand water curtain effects in front of the fantasy fairytale castle, while 27 flame effects and six laser installations around the castle will inject a more stunning and immersive viewing experience into the audio-visual feast.
Joe Schott, president and general manager of Shanghai Disney Resort, said the Dreamlight Phantom Show brings together the efforts and efforts of more than 70 Disney experts and consultants from eight countries, combining cutting-edge technology from around the world with many deep disney stories to create an all-round, immersive audio-visual feast for visitors to end their trip to Shanghai Disneyland.
New and old Disney friends join hands with tourists to bravely pursue their dreams
Each Disney story's protagonist has a beam of light in his heart that leads them toward a dream and a brighter future. As night falls at Shanghai Disneyland, more than 80 characters from Walt Disney Animation Studios, Disney and Pixar Animation Studios, as well as Marvel Studios, including characters from the latest hit films "The Adventures of the Mind" and "The Legend of the Dragon Search", will appear on the new "Dreamlight Phantom Show", inviting visitors to embark on a journey of searching for the light of their hearts.
The Fantastic Dreams Phantom Show consists of seven highly thoughtful and designed chapters that take visitors on a courageous journey. The show will open with the new original song You Are the Light. As the show progresses, stunning visuals continue to emerge, and visitors will feel the fire that guides a better future in scenes from classic Disney stories such as "Brave Legends," "Aladdin" and "Super Marines." And the adversity of the journey is inevitable, just as Magnolia, MiG in "The Journey to The Dream", simba in "The Lion King" encounter, the inner light may temporarily be shrouded in darkness, but "Dreamlight Phantom Show" will inspire visitors to challenge the dark brave, Chasing the light, break through the darkness and predicament with Buzz Lightyear and Woody in Toy Story, Le Pen in The Mind Secret Service, Leppitsch in Wonderland, Aisha, Anna and Shepard in Ice and Snow. The final chapter of the performance in the moving atmosphere opened, "Crazy Animal City" Judy and Aisha, Moana and so on will be brave, determined spirit, to inspire visitors to hold the light in their hearts, adhere to faith, and continue to move forward.
It is reported that this night performance will present visitors with nine tracks, the much-loved Disney classics will meet visitors in a refreshing way, and the resort for this beautiful night light phantom show specially created a new original track - "You are the light", let visitors immerse themselves in the vintage nostalgia atmosphere, witness the stunning visual effects and storytelling in the night sky blooming.
Marvel superheroes will be assembled for the first time
How can the journey against darkness and the pursuit of light be less involved in marvel superheroes? In the new "Fantastic Visions" show, a number of Marvel superheroes will gather for the world's first appearance on Disney Castle.
From Iron Man, Captain America, Hulk Hulk, Captain Marvel, Raytheon Saul, Black Widow, Hawkeye and Black Panther in the Avengers League, to Groot, the galaxy's favorite tree man, this exclusive chapter will pay tribute to up to 15 Marvel heroes.
Over the past five years, Shanghai Disneyland's iconic nightly show has brought unforgettable memories to countless visitors and brought the journey to a successful conclusion. The new "Dreamlight Phantom Show" will uphold this legacy and, while continuing to present visitors with a beautiful, memorable sensory feast, will also use innovative technology and iconic storytelling to redefine live entertainment for the industry and visitors.
TAG:&nbsp&nbsp&nbspthemepark